South Calgary Colts Football Association 50/50 Raffle
The South Calgary Colts Football Association will be holding its 1st  Fall 50/50 Raffle!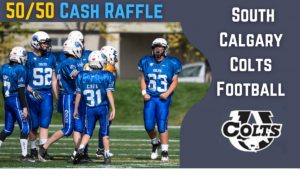 The 50/50 cash raffle will be held from August 3rd-September 10th, and will involve 4 levels of Colts football.  This raffle will help raise funds to help pay for our Colts locker room, as well as other expenses needed to deliver competitive, fun football for our Atom, Peewee, Bantam, and Spring teams!
Please click on the below link to access the raffle to purchase tickets!
https://www.rafflebox.ca/raffle/sccfa/141
Please share this link with your friends and family as well! If you do not see a player listed, please feel free to Select "Entire Group" when purchasing tickets.  
Please reach out to your team managers or coaches with questions or concerns, or email southcalgarycolts@outlook.com.
Thank you for your support!
South Calgary Colts Football Association Board of Directors
No more posts
No more posts